Archive for August, 2013
More from PsyBlog – this guy just continues to come up with pearlers!
http://www.spring.org.uk/2013/08/why-haters-have-to-hate.php
Why Haters Have to Hate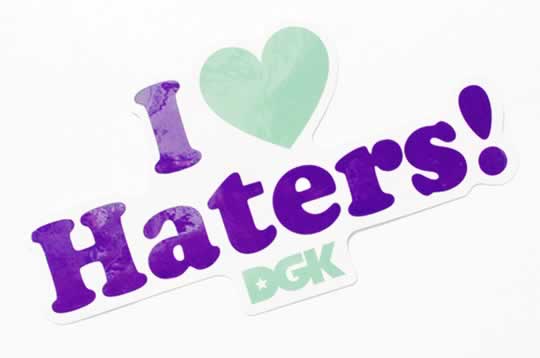 Are you an instinctive 'liker' or an instinctive 'hater'?
Some people have the talent to find the bad in anything.
Mountains, brie, Greece, electric toothbrushes; you name it, they don't like it. And they want to tell you exactly why.
A new study published in the
Journal of Personality and Social Psychology
 suggests this might be a newly identified aspect of personality: how much people are predisposed to like or hate stuff, even if they know almost nothing about it (
Helper & Albarracin, 2013
).
To investigate, the researchers asked people questions about loads of different things that weren't connected.
They included everything from 'abortion', 'America', 'antidepressants' and 'architecture' down to 'voluntary euthanasia', 'wearing clothes that draw attention' and 'wine'.
Imagine if you took five of your friends and asked them about subjects as varied as these; surely you'd get really varied responses. Some people like wine and wearing clothes that draw attention, other people dislike those things. Others couldn't care less either way.
What the researchers found was that there was certainly lots of variation between what people liked and disliked. But, oddly, at a general level, people were split between likers and haters.
In other words, some people tended to like stuff even though they didn't really know much about it, and some people had the tendency to hate stuff, whatever it was.
The authors of this article argue that this initial stance towards anything and everything is a facet of personality. In the same way that you can be either extroverted or introverted, you can also be a 'liker' or a 'hater'.
So, the answer to why the haters have to hate is that it's built into them at the level of their personality.
Now, how you might become a like or a hater in the first place, we don't yet know. Likely, it's got a lot to do with genetics. Some people are born haters, others born likers.
But there's also likely a learning component: people probably learn to become haters—hating from an early age, and so forth.
It raises all kinds of fascinating questions: does being a hater run in the family? Can a liker and a hater be in a relationship together? Which professions have the most haters?
I'll leave you to ponder these and more important questions!
Image credit: Minh Hoang
More from PsyBlog – this time on setting goals (which is one of those totally critical elements of business, management and consulting): http://www.spring.org.uk/2013/08/how-to-set-better-goals-avoid-four-common-mistakes.php
Badly set goals can degrade performance, motivate unethical behaviour and damage organisations.
It's no accident that goal-setting pervades so many areas of modern life.
There are hundreds of research studies going back decades showing that setting goals can increase people's performance.
Most have heard the goal-setting mantra that goals should be specific, measurable, achievable, realistic and time-targeted (S.M.A.R.T.); but few recognise the dangers of poor goal-setting and the unintended consequences that can follow.
Here's how to avoid four common problems with goal-setting, which are highlighted by Ordonez et al. (2009) at the Harvard Business School.
1. Too specific
The problem with setting goals that are too specific is that they can bias people's behaviour in unintended ways.  For example:
If you use goals to effectively tell a university professor that all that's important is publishing articles, then what is going to happen to her teaching?
If you tell call-centre staff that the main thing is how quickly they answer the phone, what's going to happen to how they deal with the call?
Very specific goals can degrade overall performance by warping the way people view their jobs.
Better goals: keep them somewhat vague. This gives people control and choice over how they do their jobs. When people are given vaguer goals they can take into account more factors: in short it makes them think for themselves. It's no wonder that having control is strongly linked with job satisfaction.
2. Too many goals
Perhaps the answer, then, is to set loads of goals which cover all aspects of a person's work? Not necessarily, as that introduces its own problems.
For one thing people tend to concentrate on the easiest goal to the exclusion of the others. For example, in one study participants were given both quality and quantity goals related to a task. When quantity goals were easier to achieve than quality, they focused mostly on quantity.
This study is showing how a well-meaning goal can warp people's behaviour in unintended directions.
Better goals: limit the total number of goals. Apart from anything else, who can remember 10 or 20 goals they are supposed to be working towards?
3. Short-termism
Why is it so hard to get a cab on a rainy day?
The answer isn't just that more people are hailing cabs; it's also that the cab drivers go home earlier because they hit their targets earlier for the day. So Camerer et al., (1997) found in their study of New York cab drivers.
This is a prime example of short-termism: goals can make people believe that when they hit their target, they can take the rest of the day (or month!) off.
This works at an organisational level as well: if an organisation is continually working to meet short-term goals, it can neglect the long-term importance of innovation and evolution.
Better goals: Make sure short-term goals don't interfere with the long-term vision, otherwise they can be corrosive for the organisation.
4. Too hard
When goals are too hard, they encourage people to do anything in order to meet them; that includes unethical behaviour.
One example of unethical behaviour prompted by poor goals was in the hard disk manufacturer, MiniScribe. Back in 1989, in order to meet financial targets, they began shipping bricks instead of hard drives. The bricks sat unopened for a few weeks in a Singapore warehouse, while Miniscribe successfully invoiced for them. The company soon went into bankruptcy.
Miniscribe's story is also a brilliant example of short-term thinking. What did they think was going to happen when the bricks were discovered, as they surely would be?
Similarly, research has also shown that when people are set more difficult goals, they are more willing to take risks. In some circumstances this may be acceptable, but often it is not.
Not only that, but goals that are too hard are simply demotivating. How come almost reaching your target feels like failure, even when you're 99% there?
Better goals: Set genuinely achievable goals rather than so-called 'stretch' goals. These will avoid encouraging people to behave unethically.
New rules of goal-setting
All of these problems are further exaggerated by larger the incentives. When there are huge amounts of money at stake, then badly set goals can distort human behaviour even more.
So, use these warnings as ways to set better goals, and be careful of unintended consequences.
Ordonez et al. (2009) conclude by saying:
"Rather than dispensing goal setting as a benign, over-the-counter treatment for students of management, experts need to conceptualize goal setting as a prescription-strength medication that requires careful dosing, consideration of harmful side effects, and close supervision."
With that warning in mind, here are some new rules of goal-setting
Goals should be somewhat abstract.
Goals should be set with an eye on the long-term.
Goals should be relatively limited in number.
Goals should not be too hard to achieve.
(Oh, and unless they've ordered them, never ship bricks.)
Another terribly topical article from Psyblog: http://www.spring.org.uk/2013/08/4-qualities-of-truly-horrible-managers.php
4 Qualities of Truly Horrible Managers
Fifty per cent of managers are incompetent, so how did that idiot get to be your boss?
Surveys keep telling us that between 65% and 75% of people rate their managers as the worst aspect of their jobs.
Is this just baseless moaning, or are they right?
Actually most are right since research into managers shows that around 50% of them are incompetent (DeVries, 1993).
The reasons they can't do their jobs are pretty simple. When Leslie and Van Velsor (1996) looked at the research across different organisations and different employees, they found these four points summarised the problems with failed managers (research described in Hogan & Kaiser, 2005):
Poor interpersonal skills. Horrible managers look down on you from on high like irascible emperors. They are insensitive, cold and as likely to be nice to you as give their pay-checks to charity.
Can't get the work done. They repeatedly set overly ambitious targets and then repeatedly fail to meet them. They don't follow through on their promises and they're likely to betray your trust.
Can't build a team. It's perhaps the most essential skill of being a manager. Team-building requires building trust, assigning roles and goals, promoting good communication and providing leadership. Terrible managers are totally incapable of any of this.
Can't cope with promotion. Who knows how they got that promotion, but it's clear the new job is beyond them. As soon as they're settled in, everything starts to fall apart.
If 50% of managers are that bad, how do they become managers in the first place?
The answer is that horrible managers do have desirable qualities—that's how they got hired in the first place—but they also have undesirable qualities, which often outweigh them.
Hogan and Hogan (1994) have looked at decades of research on this and they find that most horrible managers have a personality disorder. And the thing about personality disorders is:
Personality disorders are hard to detect
Many horrible managers are narcissists and, sadly, people like narcissists at first. They seem like fun people to be around.
In time, though, we come to notice that narcissists can't learn from their mistakes and go around with a massive sense of entitlement.
What seemed charming on day one is revealed as arrogance over time. Unfortunately this usually doesn't become obvious until too late.
Failure of the selection process
Managers are often recruited from outside the organisation using interviews.
Both narcissists and psychopaths are great at interviews: making a good impression in these sorts of situations is what they excel at.
Instead, more formal selection tools should be used with information collected about the person's ability to be a manager from the people who know best: the manager's subordinates.
In other words: you should vote for your boss.
Can you imagine?